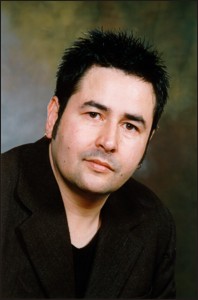 Andrián Pertout was born in Santiago, Chile, 17 October, 1963, and lived in Gorizia, Northern Italy for several years before finally settling in Melbourne, Australia in 1972. In 2007, he completed a Doctor of Philosophy (PhD) degree at the University of Melbourne on Tweddle Trust, Australian Postgraduate and Melbourne Research scholarships, studying composition under the guidance of Brenton Broadstock.

Composition awards include the Friends & Enemies of New Music Composition Prize (USA), International Music Prize for Excellence in Composition (Greece), UnTwelve Composition Prize (USA), Dorian Le Gallienne Composition Prize, Betty Amsden Award, Louisville Orchestra Prize (USA), Oare String Orchestra Judges' and Audience Prize (UK), Michelle Morrow Memorial Award, and the Zavod Jazz/Classical Fusion Award.

He is currently the Australian Delegate of the ACL (Asian Composers' League), President of the Melbourne Composers' League, as well as Honorary Fellow at the Melbourne Conservatorium of Music (University of Melbourne) and National Academy of Music (Thessaloniki, Greece).

He has received numerous commissions, including the 'Compulsory Chilean Work to be Performed by all Competitors' of the 2011 Concurso Internacional de Ejecución Musical 'Dr. Luis Sigall', and a work for robot orchestra incorporating thirty-seven automats for the Logos Foundation Robot Orchestra (Belgium), as well as other works commissioned by the Orquesta de Cámara de Valdivia (Chile), saxophonist Noah Getz (USA), toy pianist Phyllis Chen (USA), and Ensemble MD7 (Slovenia). Julian Burnside AO QC has additionally commissioned several works for performance by the University of Hong Kong Gamelan Orchestra and Australian pianist Michael Kieran Harvey, while the City of Melbourne commissioned Symétrie intégrante for flute, organ and electronics for performance by Andrew Blackburn and Jean Penny as part of the 2007 'Melbourne Town Hall Organ Project'. Film Music commissions include works that have been written to accompany over 20 documentary and short films, television programs, as well as commercials, computer games and stage productions. Highlights of this part of Andrián's career include composing for documentary films such as East Meets West (1984), Ibrahim (1984), The Murray River Quest (1985), Hope Street (1987) and The Australian Ballet (1990).

Andrián's music has received performances at festivals such as the ISCM World Music Days 2005, 2007 and 2010 (Croatia, Hong Kong and Australia), 33e Festival d'Automne á Paris (Paris, France), XIII and XV Festival de Música Contemporánea Chilena (Santiago, Chile), and the 22nd, 26th and 27th ACL Conference & Festival 2002, 2007 and 2009 (Korea and New Zealand). His music has also been performed in Puerto Rico, Romania, Argentina, Turkey, Taiwan, Ireland, Portugal, Greece, Japan, Venezuela, Mexico, New Zealand, Poland, Brazil, Cuba, Colombia, Peru, China, Croatia, Hong Kong, France, USA, Belgium, Chile, Italy, Slovenia, Canada, Republic of Macedonia, UK, Netherlands, Austria, Korea, and Australia by orchestras and ensembles that include the Melbourne and Tasmanian Symphony Orchestras, Orchestra Victoria, The Louisville Orchestra (USA), The Foundation Orchestra (USA), Orquestra Petrobrás Sinfônica (Brazil), Orquesta Sinfónica de Puerto Rico (Puerto Rico), Orquesta de Cámara de Chile (Chile), Orquesta de Cámara de Valdivia (Chile), La Chapelle Musicale de Tournai (Belgium), Oare String Orchestra (UK), Ónix Ensamble (Mexico), Ensamble Contemporáneo (Chile), Quinteto CEAMC (Argentina), Sonemus Ensemble (Bosnia-Herzegovina), Sori Ensemble (Korea), Omni Ensemble (USA), and the Ensemble für Neue Musik Zürich (Switzerland).

As an educator, Andrián Pertout has been a teaching composition and orchestration at the Faculty of Music, University of Melbourne since 2003. The Victorian College of the Arts has additionally employed him since 2006. In 2007, he also began working as a music engraver for the Lyre-Bird Press (Editions de l'Oiseau-Lyre), one of the world's foremost publishers of scholarly musical editions, which is now established at the University of Melbourne. Over the years he has also worked for the University of New England, Charles Darwin University and the University of Western Sydney as composition teacher, supervisor and examiner.
________________________________________________________________

Selected lectures include: 'Theory Versus Performance Practice: Azadeh for Santur and Tape,' 2007 Asia Pacific Festival 'Tradition/Transformation' Conference, Victoria University, Wellington, New Zealand as part of the 26th Asian Composers League Festival & Conference; 'Pure Retuning and Political Subversion: Defining Eclecticism in the New Millennium,' as part of a series of lectures entitled 'Pacific Conceptual Issues and Techniques' involving five Australian composers that included Brett Dean and Liza Lim at University of Western Sydney, 2005; 'Defining Eclecticism in the New Millennium,' Indiana State University 38th Annual Contemporary Music Festival, USA as part of winning the 2004 ISU Contemporary Music Festival/Louisville Orchestra Composition Competition; and 'Australian Composition,' Department of Music and Sinology, University of Chile, Santiago, Chile, 2003.
________________________________________________________________

Andrián Pertout's work as a writer involves numerous music publications (Juke Magazine, Mixdown, Australian Musician, On the Street Melbourne, Music Trader, Spanish Herald, Drum Scene, Music Trader Online, Beat Magazine, 3rd Magazine, Metalshop Online and the Sunday Herald Sun), reviewing new musical technology, compact disc and book releases, as well as conducting interviews with prominent national and international artists (to date the total number of published articles is over 400). Some of the artists interviewed include Herbie Hancock, Steve Reich, Joe Satriani, Mark Levine, Joe Zawinul, Melissa Etheridge, José Feliciano, Steve Vai, Mark Snow, Alf Clausen, Jimmie Vaughan, Ottmar Liebert, Mike Stern, Tom Coster, Bill Evans, Megadeth, Janis Ian (USA), INXS, Tommy Emanuelle, Savage Garden, Slava Grigoryan (Australia), Chitravina N. Ravikiran, Karaikudi R. Mani (India), Rick Wakeman, Fairport Convention (UK), Junkie XL (The Netherlands), Reinhard Flatischler (Austria), Paco Peña (Spain), Hossam Ramzy (Egypt), Sepultura (Brazil), Tony Pérez & Ramces Baralt (Cuba), and Inti-Illimani, Isabel Parra, Illapu (Chile), among many.
________________________________________________________________

He is a member of the Australian Music Centre, Melbourne Composers' League, Australasian Computer Music Association, SCI (Society of Composers Inc., USA), Asociación Nacional de Compositores de Chile, CECh (Comunidad Electroacústica de Chile), New Music North (Canada), and the Just Intonation Network, as well as writer full member of APRA (Australasian Performing Right Association Limited).
________________________________________________________________

For further information visit: http://www.pertout.com or my YouTube Channel at http://www.youtube.com/user/apertout