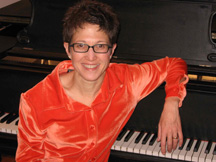 Amelia Kaplan, a composer whose music has been described as "riveting" by Anthony Aibel, reflects her diverse interests in historical music, Jewish music, Indian Classical Music, and physics. Currently Associate Professor of Composition at Ball State University, she has taught at Oberlin Conservatory, the University of Iowa, Roosevelt University, Columbia College, and the University of Chicago. She has guest lectured at Boston University, the University of Western Ontario,The University of Northern Colorado, The University of Northern Iowa, and the Conservatoire Angouleme, in Angouleme, France.

Her music has been performed at contemporary music festivals around the U.S. and in Europe, including the Society for Composers, Inc., the Composers' Conference (at Wellesley), SICPP, Arcosanti, Gaudeamus, Darmstadt, Logos-Blad, Festival at Sandpoint, June in Buffalo, and others. Ensembles and musicians who have performed her work include Bent Frequency, The California EAR Unit, The Meridian Trio, The Purchase Percussion Ensemble, DoublePlay Percussion Duo, The Contemporary Chamber Players, The Nez/Wolfe Duo, The Pacifica Quartet, Roy Poper, James DeSano, Benjamin Coelho, Annette-Barbara Vogel, and others. Recordings are available on Albany Records and PARMA's Navona label, with more upcoming on Centaur Records.

Ms. Kaplan has been supported with residencies by the MacDowell Colony, Ucross Foundation, Atlantic Center for the Arts, and the Virginia Center for the Creative Arts. She has received grants from The Indiana Arts Commission, Ball State University, Oberlin Conservatory, the University of Chicago, and ASCAP, and has been nominated three times for the American Society of Arts and Letters.

Amelia Kaplan completed her Ph.D. in Music Composition at the University of Chicago as a Century Fellow, where her primary teachers were Shulamit Ran, Marta Ptaszynska, and Ralph Shapey. She worked with Azio Corghi at the Milan Conservatory on a Whiting Dissertation Fellowship, and also received a Diploma of Merit from the Accademia Musicale Chigiana while studying with Franco Donatoni, and a Diploma from the American Conservatory in Fontainebleau.
Compositions