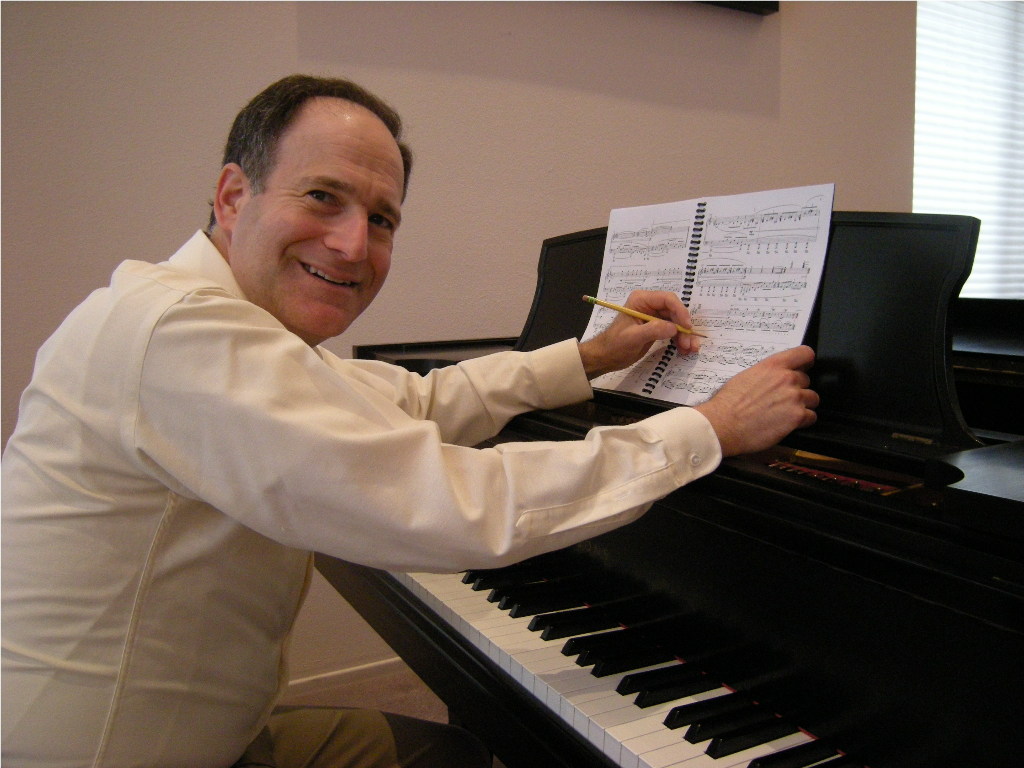 Aaron Alter
A native of Chicago, Aaron Alter's musical background was a product of the rich musical life that he found growing up in the Windy City. While in high school, Aaron played in a variety of Rock and Jazz bands, culminating in a regular engagement as the pianist with saxophonist Fred Anderson. Also while in high school, he studied piano with Bob Ravenscroft, Alan Swain and Helen Engler. Aaron received his Bachelor of Music degree from Northwestern University, where he studied piano with Frances Larimer and Gui Mombaerts, and composition with Lynden DeYoung and David Noon. During that time, Aaron immersed himself in the European classical tradition as well as explored more modern European and American music. He received his Master of Fine Arts Degree from Princeton University, where he studied with Milton Babbitt and James K. Randall. Aaron's recent works display influences that span the range of Medieval European music all the way to Jazz and Rock. For example, "Homage to Josquin" for two flutes, piano, electric bass and drums was inspired by themes from the Renaissance master Josquin des Prés, combined with a symphonic piano part and a "Classic Rock" rhythm section. Aaron resides in Carlsbad, California and also serves as a board member of the Carlsbad Friends of the Arts.
Email: aaron@aaronalter.com
Phone: (619) 992-7925
Web Site: www.aaronalter.com
Facebook Page: www.facebook.com/AaronAlterComposer
Twitter: @aaronalter
"Solar Rays" epitomizes the terms "genre-busting" and "crossover" or maybe as we say in the software world, "cross-platform." The original version was for a classical piano trio of Piano, Violin and 'Cello and now we have the Big Band version of the same piece. Both versions bring out different aspects of the music.

Here is the video of Aaron Alter's "Solar Rays" for Jazz Big Band that was premiered on March 5, 2018 as part of the Composers Concordance 'CompCord Big Band' concert at The Cutting Room in New York. The video is by Eddie Papetti.
Please click on the "Play" button in the frame below to see the video.

Performers are: Gene Pritsker – conductor and arranger
Gerson Galante (1st solo) and Scott Hoefling – Alto Saxophones
Paul Carlon and Dennis Brandner – Tenor Saxophones
Mercedes Beckman – Baritone Saxophone
Franz Hackl, Wayne J. Du Maine, Dennis Hernandez and Peter Oswald (2nd solo), Trumpets
John Clark – Horn
Mike Seltzer and David Whitwell – Tenor Trombones
Jonathan Greenberg – Bass Trombone
Richard Sussman – Piano
Laurence Goldman – Double Bass
Joe Abbatantuono – Drum Set
Compositions
For Fred - for violin and piano (US Premiere)


"For Fred" for violin and piano was written in memory of the Chicago-based saxophonist, Fred Anderson, in whose band I played piano when I was in high school. When he passed away in 2010, I wanted to write something in his memory, but couldn't find the right instrumental combination after starting the work several times. I finally settled on Violin and Piano as the perfect way to express the full range of emotions that I felt. The work starts out with an Elegy. You might hear an echo of church bells in the repetitive theme in the right hand of the piano. After a dramatic and emotional passage in the violin, similar to a vocal recitative, the Elegy shifts to a more upbeat section, entitled "His Legacy Lives On." This section recalls the music that Fred Anderson played in his nightclub, where the bass player would play a repeating figure and Fred would improvise on that figure. The Elegy returns, but is interrupted by a quiet ending. This performance is the US Premiere, given by Andrea Vercoe, violin and Elizabeth Hill, piano, of the Great Noise Ensemble, on September 9th, 2017 at the 2017 West Fork New Music Festival.
Introspective Blues #1 for flute and harp

Please click on the "Play" button in the frame to the right to view the video.

The blues can reflect many moods. Introspective Blues #1 for flute and harp starts out reflecting the state of mind of a person thinking a lot about "why things are the way they are" but not ready to express it outwardly. As the work unfolds, our "hero" gains more courage, and by the ending, we hear the outward expression that was suppressed initially.

Many thanks to Iwona Glinka, who brought the flute part to life and to my wife, Naomi Alter, who played the harp, which provided the harmonic and rhythmic drive to the work. Thanks also to Michail Travlos, who did the excellent recording and post-production.
Together We Create and Sing! (inspired by Haydn)
The YouTube video of the entire Premiere performance can be played by clicking on the "Play" button in the frame below.

This video is the world premiere on May 6, 2017 in Santa Fe, New Mexico of "Together We Create and Sing!" by Aaron Alter, inspired by the music of Franz Joseph Haydn (1732-1809), with text by W.H. Auden (1907-1973) and Aaron Alter, for chorus, flute and piano. "Together We Create and Sing!" was commissioned by the New Mexico Performing Arts Society. This performance was part of a concert by the New Mexico Performing Arts Society entitled "The Creative Fire", honoring the Santa Fe artist Richard G. Kurman, whose favorite composer is Haydn. The performers were: Soprano - Kelli Dahlke-Fuentes, Jennifer Perez, Camille Tierney Alto - Esther Moses Bergh, Trish Henning Tenor - Scott Fitzgibbon, André García-Nuthmann, Seth Hartwell Bass - Paul Bower, Tjett Gerdom, Tim Willson Linda Marianiello - Flute Jacquelyn Helin - Piano Franz Vote - Conductor "Anthem" by W.H. Auden Used by permission of Curtis Brown, Ltd. Copyright © 1944 All Rights reserved
As I was organizing my composition that was inspired by the music of Haydn and using a poem by W.H. Auden, I imagined how wonderful, even if it were impossible, it would be to have both Haydn and Auden with me collaborating on my new work. We could get everything done a lot faster by working together on the project. While I was sketching out the beginning that reminded me of one of Haydn's symphonic introductions, I heard the sound of the doorbell. As I opened the front door, I saw what looked like an antique horse-drawn carriage in our driveway. The well-appointed person at the door introduced himself to me as the driver of the carriage. He announced that someone of great importance heard my request to have the assistance of Haydn and Auden in writing my work. The driver asked me to approach the carriage, where he opened the door and an older man with a white wig greeted me in German. Because my understanding of German was not the greatest, another man interrupted in English that he would be translating Haydn's German into English for me and introduced himself as W.H. Auden, the author of the poem that I was setting to music. Astonished and in awe, I realized that my wish to have Haydn and Auden assisting me in the composition of my new work had been granted and that I would be participating in an unprecedented collaboration. As I welcomed Haydn and Auden to my office, the carriage drove off and the image faded until it disappeared into thin air. Auden explained the meanings behind his poem that could help us with the musical setting. Haydn reviewed Auden's poem and suggested that we write a double-variation form (where two themes, each in two parts, are presented and varied), that was one of his specialties. Haydn offered to contribute the first theme himself, but then said to me in stern, German fashion, "Young man, I can't do all the work for you. You'll have to write the second theme and all the variations yourself." I asked Haydn how much time we had together, and he said that he was very busy, but would be able to stay for the remainder of the day. We worked for a solid 12 hours and then Haydn said that he was exhausted and that he and Auden had to go. With Haydn's help, we had the entire work planned out and were mid-way through writing it, but Haydn felt that I could take his lead and finish it without his assistance. I thanked Haydn and Auden for their wisdom and help with my new work. The doorbell rang. It was the driver of the carriage. I walked Haydn and Auden to the carriage and helped both men get in. The door slammed shut and the driver nudged the horses to begin pulling the carriage, which whisked away at high speed. After a few seconds, the carriage disappeared as it rounded a corner. What you are about to hear is the result of our collaboration. You'll hear some contrasting styles at times, since Haydn left the ultimate completion of the work to me, so I took a few liberties. I hope that you like the results.
Homage to Josquin (World Premiere)

The YouTube video of the entire Premiere performance can be played by clicking on the "Play" button in the frame below.

"Homage to Josquin" for two flutes, piano, electric bass and drums is based on themes from the Renaissance master, Josquin des Prés (c.1451-1521.) He was an almost exact contemporary of Leonardo da Vinci. In his time, the "New World" was discovered, the modern printing press with movable type was invented (the "Internet" of its time), and Europe was emerging from the Middle Ages. Homage to Josquin takes themes from three Latin Mass movements as well as one secular work of Josquin, and combines them with a symphonic piano part and a "Classic Rock" rhythm section, which to my knowledge hasn't been done before. The flutes take on the role of the voices in Josquin's musical themes, and in the sections where they are playing by themselves, it would be easy to imagine being transported to back to early 16th century Italy, where Josquin's music was performed in the chapels of the rich and powerful. The form of "Homage to Josquin" is very classical in design, similar to first movements of Sonatas, String Quartets or Symphonies of Haydn, Mozart and Beethoven. You'll hear musical ideas being presented, developed and recalled later.

Performers were Linda Marianiello and Susan Levitin, flutes; Jacquelyn Helin, piano and Aaron Alter, computer ("playing" the electric bass and drum parts) and conductor. Many thanks to Linda Marianiello, Susan Levitin and Jacquelyn Helin for making this premiere a reality. I hope that you like "Homage to Josquin."